Triangle Business Journal – Executive Voice: He steers RTP biotech's mission to make food healthier and cheaper
August 31, 2023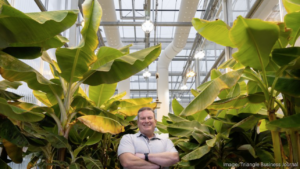 From science to law to business, Todd Rands has worked in the intersection of the agriculture and biotech industries from various perspectives over the past two decades.
Rands began his most recent endeavor in May 2022, when he became CEO of Elo LifeSystems, only a few months after it spun out of Precision BioSciences (Nasdaq: DTIL) , a public biotech based in Durham. Elo is an ingredient company with office, lab and greenhouse space in Research Triangle Park that targets some of the largest challenges in the food industry.
Elo aims to develop an alternative to sugar by taking an ingredient from monk fruit, an expensive crop grown in China, and producing it in watermelons and other crops that are easier to grow at scale. Elo also is working with Dole Food Co. to develop banana varieties that are resistant to a devastating fungus.
Elo is in the process of pulling together its next funding round after closing a $24.5million Series A raise this year . The financing will support its growth as Rands expects it steam of 33 employees to reach 50 next year.
Read the full article